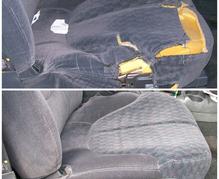 Committed to providing excellent service, so you choose us for all your upholstery needs.
We give you an alternative to going to an auto dealer to take care of your upholstery and auto interior problems. We genuinely care about your car and your experience and it shows. Our first-time customers continually become our long term customers time and time again, choosing us for all their auto needs.
We can also provide a custom interior for your street rod, classic, or your everyday driver!
We're committed to serving you with quality and value. Bring your car in today for a professional recommendation and see what our commitment to quality is all about! We may not be related, but you'll feel like we're family.
OUR TEAM
Dedicated auto interior, boat and restaurant seating services with quality and value.
Our professionals are highly skilled and have years of experience. Most of all: they love cars and care about yours. Whether it's our quality, friendly service, or the honesty and value we bring to every interaction, our customers love us.
Get to know our experienced professionals. They've got tools, skills, and a desire to help. Come see why no one else is as qualified, or convenient as we are.

Chris Fry – Owner

Darin Fry – Interior Specialist
John O'Connell – Interior Specialist